Eurocard
Over 200 companies have set up a Bezala <> Eurocard integration, and thousands of Eurocard credit card purchases are filed & accounted for through Bezala on a monthly basis.
Eurocard is by far the most used corporate credit card in the Nordics. It was originally formed in 1964, and today belongs to SEB Kort. SEB has purchased multiple independent card-companies and (ex. diners club) and merged them to the now-known Eurocard. Bezala has a direct integration with Eurocard that runs daily. The integration works for all SEB Kort products in the Nordic region (Eurocard, Diners Club, Co-brands and Diners Club Travel account), and handles all currencies.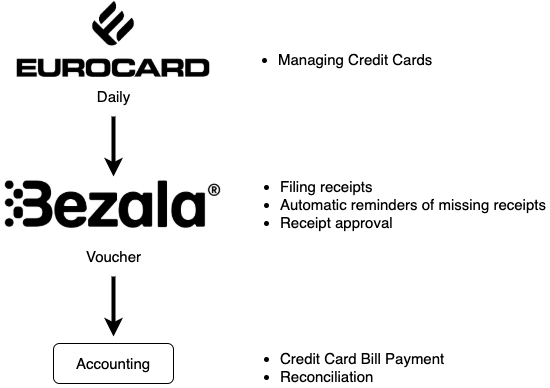 Want to automate the reminders of missing receipts?

Bezalas Eurocard integration is exceptionally good at reminding credit card users of what receipts need to be sent in. When your employee uses a Eurocard, they can file the receipt via Bezala right away. Bezala will then connect that receipt to the Eurocard transaction. This enables us to show a list of what receipts are missing.
Furthermore, Bezala will once a week automatically remind the user of the missing receipts via E-mail. The user can easily create new transactions from the Email we send.

Use Eurocard with Bezala to cover all your Travel Expenses and Purchases:
When you combine Eurocard with Bezala, your employees can:
Use the Eurocard when purchasing on behalf of the company
Use Bezala to file for Mileages and Per Diems
Allocate the receipts to the correct accounts, cost centres and projects in Bezala
Reimburse out-of-pocket expenses in Bezala
Set up a proper approval cycle for purchases
Does Eurocard have an online tool for managing cards?
Yes, Eurocard a tool called E-admin in which you can immediately access updated information about the cards and accounts, and manage the cards when you most need it.
Once you log in, you get a full overview of your company's entire engagement - from transactions and payments to invoices. You can easily order new cards and PIN codes, close cards and update cardholder information. You also have the option to see statistical reports of company spending and to set spending limits on cards to minimize company risk.
Here's a video of how Eurocard E-admin works:
What information does Bezala get from Eurocard?
SEB Eurocard sends the previous days cleared transactions to Bezala every morning in XML files via SFTP. The format is PCI DSS compliant, which means that the credit card number is masked, and cannot be used as a unique "key". Therefore, we use the employee ID as the unique key that connects cards to employees.

When Eurocard sends new transactions, Bezala then groups these transactions into monthly credit card bills. We receive the following information per transaction:
Name of the employee
Personnel number of the employe

Card number
Reimbursable (used to decide whether the transaction needs to be reimbursed or not)
Time of purchase
Country of purchase
Currency
Exchange rate
Amount
Vendor name
What happens when a new employee gets a Credit Card
When Bezala detects a new card, we will try to link it to a bezala user using the employee ID. Furthermore, we use the "Reimbursable" -indicator to link the card to the proper payment method.
How does the accounting of Eurocard Credit Card Bills work with Bezala?
The Eurocard -> Bezala -> Accounting is quite straightforward. The user uses the credit card and reports the receipt via Bezala. After approval, the receipt is sent to your accounting, where it's reconciled to the proper credit card bill transaction. Bezala supports the most common accounting softwares. Bezala automatically connects the receipt to the credit car transaction in bezala, so you will always see what the balance sheet accounts sum consists of.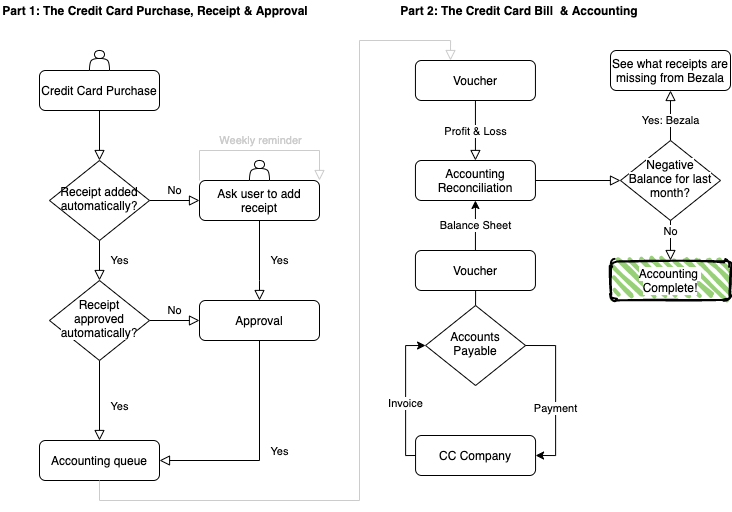 Here's a video of how the the process works from the users perspective:
How to integrate Eurocard to your Bezala
Connecting Bezala and SEB Eurocard
Fill in the form behind this link and send it to Eurocard to the address corporatesupport@eurocard.fi. The"Expense management system" box should be filled in as follows: Expense management system: "Bezala", Supplier: "Renance - Automated Financial Services Oy", Choose the following service: "Daily transaction files"
Ask for the Bezala user IDs (Eurocard needs these to establish the connection) from Bezala's support chat or fromsupport@bezala.com.
Send the filled-in form to Eurocard. Please also inform the Bezala support by sending a confirmation message to support@bezala.com.
When signing up, Eurocard can send up to 3-month-old transactions to Bezala.
What does the integration cost?
SEB Eurocard charges 350€ yearly fee incl. all company cards.