Pliant
The combination of Bezala & Pliant removes manual steps from both managing company spending and filing receipts.
Since 2020, Pliant has been on a mission to empower companies to grow by providing a smart way to pay that scales with their business. With its app and API-based solutions, Pliant gives companies the ability to issue physical and virtual credit cards, track spending, and seamlessly integrate all of these data into their finance stack.
Pliant offers high credit lines, competitive FX rates, custom billing cycles, and the ability to process many transactions quickly, which benefits many types of businesses – from marketing agencies to ecommerce companies.

By integrating your Pliant card to Bezala, you get access to numerous accounting integrations popular in the Nordics, and your employees can use the same app for both filing credit card receipts and claiming per diems and mileage allowances.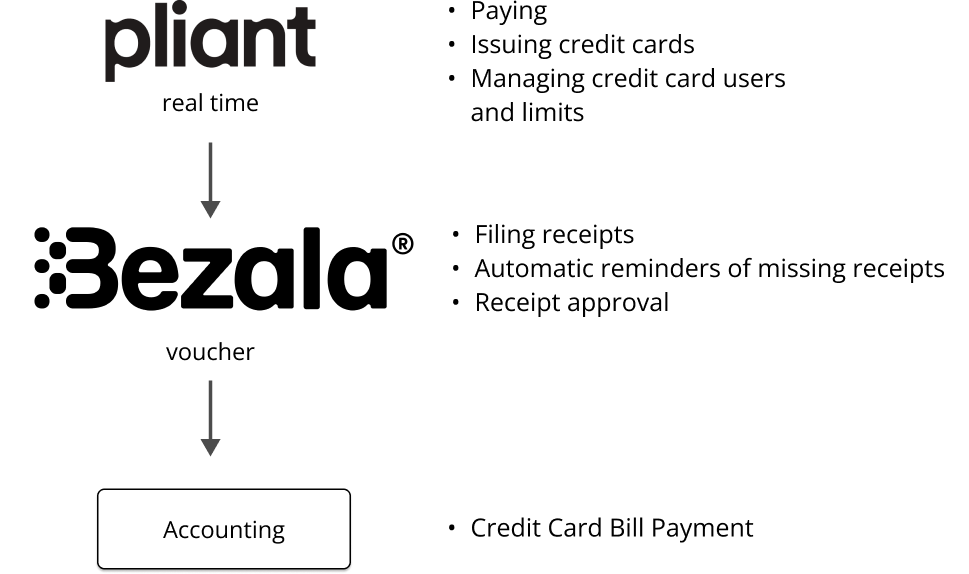 Why chose Pliant & Bezala instead of some other card?

Bezala's expense management software (including mileage and per diem forms) is fully integrated with Pliant.
Easy integrations: Purchases made with Pliant credit card come to Bezala in real time.
Automated reconciliation of email receipts to credit card transactions
100% automation of subscription expenses
Easy to issue cards to employees with foreign background
Cashback & no foreign currency exchange fees